Camp Kelly – Formerly Camp St. Andrew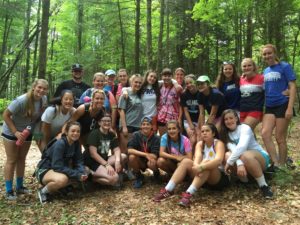 UNC is happy to announce that the agency has officially assumed ownership of the former Camp St. Andrew in Tunkhannock, now re-named "UNC's Camp Kelly" in honor of Monsignor Joseph P. Kelly, who played an instrumental role at the resident camp for decades and was the founder of Project Hope at UNC more than 45 years ago.
In the Fall of 2015, the Diocese of Scranton announced the cessation of operations at Camp St. Andrew. In an effort to ensure that the property continued to benefit youth, the Diocese then leased the camp property to UNC for the 2016 summer camping season, during which UNC operated Project Hope, as well as a girls resident camp and girls and boys basketball camps. The permanent transfer of the camp property to UNC occurred on November 2, 2016.  UNC is grateful to the Diocese for allowing the agency the opportunity to ensure that organized summer youth programming remains available at the site for years to come.
Leading up to the transfer of the former Camp St. Andrew, UNC was lucky to have widespread community support from former campers and others who believed in the importance of continuing to give youth a fun, safe place to learn and grow during out of school time.  Going forward, we are counting on this continued support to help our nonprofit agency conduct several restoration projects at the site.  UNC is currently conducting a capital campaign with opportunities for naming rights to Camp buildings, recognition at a Camp Reopening Picnic, as well as the opportunity to buy a ceremonial "share" of Camp for a $25 donation.  Every contribution helps ensure that the legacy of Camp will continue!
CLICK HERE TO FIND OUT MORE ABOUT THE CAMP RESTORATION
AND HOW YOU CAN HELP!
Please also visit and "like" our Camp Kelly Facebook Page, or find us on Instagram: @CampKelly.UNC, to view photos, camper testimonials, and other highlights from this special place!
For more information about Camp Kelly, contact Kelly Langan, Director of Camp Initiatives at 570-346-0759 or during Camp season call: 570-836-2975.