Camp Kelly – Formerly Camp St. Andrew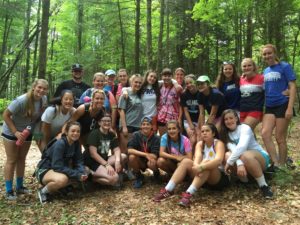 Registration for 2017 camp offerings is now open, please click here to register online.
UNC is happy to announce that the agency has officially assumed ownership of the former Camp St. Andrew in Tunkhannock, now re-named "UNC's Camp Kelly" in honor of Monsignor Joseph P. Kelly, who played an instrumental role at the resident camp for decades and was the founder of Project Hope at UNC more than 45 years ago.
In the Fall of 2015, the Diocese of Scranton announced the cessation of operations at Camp St. Andrew. In an effort to ensure that the property continued to benefit youth, the Diocese then leased the camp property to UNC for the 2016 summer camping season, during which UNC operated Project Hope, as well as a girls resident camp and girls and boys basketball camps. The permanent transfer of the camp property to UNC occurred on November 2, 2016.  UNC is grateful to the Diocese for allowing the agency the opportunity to ensure that organized summer youth programming remains available at the site for years to come.
Leading up to the transfer of the former Camp St. Andrew, UNC was lucky to have widespread community support from former campers and others who believed in the importance of continuing to give youth a fun, safe place to learn and grow during out of school time.  Going forward, we are counting on this continued support to help our nonprofit agency conduct several restoration projects at the site.  UNC is currently conducting a capital campaign with opportunities for naming rights to Camp buildings, recognition at a Camp Reopening Picnic, as well as the opportunity to buy a ceremonial "share" of Camp for a $25 donation.  Every contribution helps ensure that the legacy of Camp will continue!
CLICK HERE TO FIND OUT MORE ABOUT THE CAMP RESTORATION
AND HOW YOU CAN HELP!
SPECIAL EVENTS
We are pleased to offer the public the opportunity to enjoy all of the amenities at Camp Kelly and enjoy a wonderful weekend with a family member or a friend. Our two newest events are the Father and Son Weekend which is being held on Friday, August 4 through Sunday, August 6. The Women's Weekend will be held on Friday, August 11 through Sunday, August 13 both at UNC's Camp Kelly in Tunkhannock, PA.
The Father and Son Weekend is going to be a great event for any father figure who wants to enjoy some quality time with his son, grandson, nephew, brother or family friend. The weekend includes the opportunity to challenge yourselves on the rock wall and zip line, meet new friends at the ice cream social or you can show off your skills at field sports. There is the lake, of course, fishing, archery and so much more. The cost per pair is $200.00. If you need to add another boy, the add-on charge is just $65.00. Adults must be age 21+ and boys must be at least 6+ years to be able to attend. To register for this event, click here.
The Womens' Weekend is a terrific opportunity to share a wonderful time with a relative or friend or a group of your favorite ladies. If you would prefer to attend by yourself that is certainly acceptable. This is an opportunity to meet new people and make some friends while you enjoy the events. Relax with one of our chair massages and then, enjoy the wine tasting. If you are the more adventurous type take time to enjoy the rock wall and zip line. The camp offers a variety of amenities such as the lake for swimming and fishing too and who doesn't love a bonfire? The cost for the Women's Weekend is $200 per person. To register for this event, click here.
Please also visit and "like" our Camp Kelly Facebook Page, or find us on Instagram: @CampKelly.UNC, to view photos, camper testimonials, and other highlights from this special place!
For more information about Camp Kelly, contact Kelly Langan, Director of Camp Initiatives at 570-346-0759 or during Camp season call: 570-836-2975.