June 21, 2011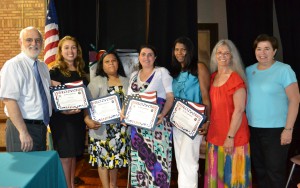 SCOLA, a division of United Neighborhood Centers of NEPA, recently celebrated nine new American citizens at the annual International Dinner. The nine new citizens hail from Brazil, Mexico, Dominican Republic, India, and Jamaica. Recognized for their accomplishments were: Sudesh Chhabra, Mercedes DeLeon, Temistocles Hidalgo, Nargiz Kadyrova, Mounika Patel, Pramodbhai Patel, Pauline Suarez, Alma Urena, and Maria Vitale. A total of thirty-one SCOLA students have received their US Citizenship since 2008, when record keeping of citizenship at SCOLA began.
Each year, SCOLA holds the International Dinner to celebrate the English as a Second Language students and students who recently became American citizens. These adult students work hard to learn English, most attending classes and tutoring sessions at SCOLA while holding down jobs.
The dinner is made by the students and some of the tutors and features dishes from their country of origin. This year, 20 countries were represented. The dinner was for all students at SCOLA, both ESL and Literacy, and their families, as well as tutors and SCOLA and UNC board members. A total of 175 people were in attendance. The new students who were present received a plaque and an American flag in honor of their accomplishment and their emotions were evident. One of the students, Maria Vitale, said, "I have waited a long time for this flag!"
SCOLA provides both one-on-one tutoring and small group classes for adults wishing to improve their English reading and writing skills. In addition, students are able to use the SCOLA computer lab to practice their skills. All services at SCOLA are provided free to adults in Lackawanna County. For more information about becoming a tutor or to refer a student, call 570-346-6203.