July 28, 2011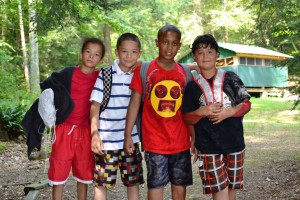 UNC celebrated Appreciation Day and the 41st Anniversary at Project Hope Summer Camp on July 27 where board members, staff and parents were invited to Camp St. Andrew in Tunkhannock, PA to get a glimpse of what over 500 inner-city youth from Lackawanna County get to experience every weekday for 5 weeeks.
The camp features over 550 acres, which includes fields, hiking trails, a swimming pool and lake to entertain and educate campers ages give through twelve. The active youngsters take part in a wide variety of activities that range from archery, music and kayaking to athletics, swimming and arts and crafts. Project Hope also features an Adventure Learning Course that includes a rock climbing wall, zip line and team-building outdoor games.
Project Hope will conclude on August 5 this year. Registration for 2012 will begin next May. In the meantime, check out this great piece from WBRE about camp!