October 25, 2011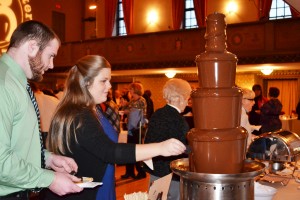 The Scranton Cultural Center Ballroom was full of chocolate Sunday, October 16 for the 7th Annual Chocoholic Frolic. Newly moved from its previous date in February, frolickers got to enjoy their chocolate without braving snow and cold. Entertainment was provided by Rich Leonori on the piano, setting the perfect tone for the evening. Vendor tables were beautifully decorated in fall themes.
Eighteen vendors of all things chocolate participated, including A Little Pizza Heaven, Atlantic Fish and Fabulous Food, Bella Faccias, Ben & Jerry's, Carmen's (the Radisson), Chocolate Creations, Fig at Alexander's Salon & Spa, Gertrude Hawk Chocolates, The Glenburn Grill and Bakery, The Hilton, Iron Pierce Catering, Lynn Sandy's Cakes, Manning's Farm Dairy, My Mother's Delicacies, Nichols Village Inn and Spa, Patsel's Restaurant, Sweet Obsessions by Amber and 1120 Wheeler Avenue Restaurant. Foods varied from duck on chocolate polenta dusted with orange powder to gluten free chocolate chip cookies, from chocolate ruglach to pork with a chile & cocoa nub crust, from ice cream cake to Godiva liquor poached pears, and much more!
The event, presented by Mohegan Sun at Pocono Downs, benefited SCOLA, the adult literacy program at United Neighborhood Centers of Northeastern PA. For over 30 years, SCOLA has been training tutors who help adults improve their reading, writing, and math skills.
Click here for a slideshow of the 7th Annual Chocoholic Frolic.