August 31, 2012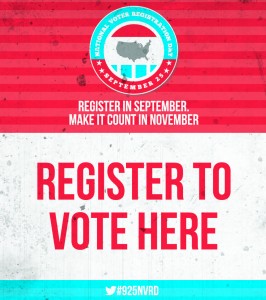 UNC is excited to announce a new voter registration initiative across the agency and Lackawanna County. "Encouraging civic engagement is an important part of the mission of United Neighborhood Centers," said Michael Hanley, Executive Director. "There is no more effective means of civic engagement than the ballot box." The agency will be strengthening and serving the community in a variety of capacities when it comes to voter registration and getting out the vote on Election Day.
Beginning on Tuesday, September 4th, all of UNC's ten centers and buildings will be working to help community members register to vote including those first-time voters, and people who need to change their name or residency. The following locations will be open to the public for registration during regular business hours including:
UNC Administrative Offices/South Side Senior Center: 425 Alder Street, Scranton,
SCOLA Learning Center: 629 Cedar Avenue, Scranton,
Community Services Building: 410 Olive Street, Scranton,
West Side Senior Center: 1004 Jackson Street, Scranton,
Carbondale Senior Center: 66 North Church Street, Carbondale,
Mid Valley Senior Center: 310 Church Street, Jessup
Bellevue Center: 531 Emmett Street, Scranton (6-9PM only)
Progressive Center: 414 Olive Street, Scranton (6-9PM only)
Additionally, UNC will also be helping community members register to vote in all City of Scranton public housing developments in collaboration with Friends of the Poor. Voter registration will continue through Tuesday, October 9.
UNC's staff has also been trained in the new state Voter Identification Law and the agency recognizes that some people may have trouble obtaining the necessary ID. Therefore, UNC staff will work with any individual in need of the proper identification to vote in the upcoming election. The agency will also be coordinating rides to the polls on Election Day for any community member not able to get there on their own.