February 13, 2013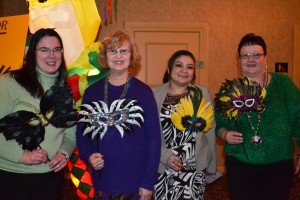 The Radisson Lackawanna Station Hotel was transformed into New Orleans on February 9 as UNC celebrated our 13th Annual Mardi Gras Celebration. The event featured fortune tellers, entertainment by Doug Smith's Dixieland All-Stars and plenty of gaming tables. A basket raffle and silent auction was also held. A grand prize package to Mount Airy was given away at the end of the night.
The event, presented by Mount Airy Casino and Resort, benefited UNC's emergency food and clothing bank by raising more than $26,000. Angel's Attic provides more than 20,000 individuals each year with clothing, food, household and personal hygiene items free of cost.
UNC would like to thank all the event sponsors: Mount Airy, PNC Bank, Sanofi-Pasteur, Bank of America, Citizens Savings Bank, Peoples Neighborhood Bank, the Burns Family, Gerrity's, Penn Security Bank, Grimm Construction, Mohegan Sun, the Oppenheim Family, Johnson College, Keystone Community Resources, Gertrude Hawk and Franklin Security Bank, as well as our media sponsor, WNEP.
Thank you to all the basket raffle/silent auction donation sponsors, volunteers and everyone who attended. To see a gallery of photos from the event, click here.