October 28, 2013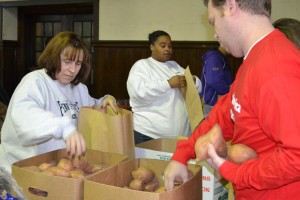 As the holidays draw near, many families begin preparing for abundant feasts and old family traditions. However, for many more, the holidays often mean a struggle simply to provide a Thanksgiving turkey for their children.
On Tuesday, November 26, for the 34th year, UNC will once again provide almost 1,500 families with children all the trimmings for a traditional Thanksgiving meal. Each family will receive a basket including a turkey, potatoes, carrots, bread or croutons, cranberry sauce, celery, onions, apples, pumpkin pie mix, pie crust mix, non-dairy whipped topping, and canned vegetables. Distribution of baskets will begin at 10 a.m. at St. John Neumann Church (633 Orchard Street in Scranton).
Registration for UNC's Thanksgiving Feed-A-Friend Food Basket Program will begin on Friday, November 1 at the agency's Community Services Building, 410 Olive Street in Scranton. Families can register through November 22, Monday through Friday, 9 a.m. until 5 p.m. and on Thursdays from 9 a.m. until 6 p.m.
In addition to the Scranton based Food Basket Program, United Neighborhood Centers has once again partnered with the Upper Valley Project Hope Committee to provide a Thanksgiving Basket distribution in Carbondale. This partnership works to serve the needy families in the upper valley, Carbondale area who are unable to participate in the Scranton program. Registration for Carbondale area residents will be held at St. Rose Parish Hall's Basement (4 North Church Street) on the following dates:
• Thursday, November 7 from 3 p.m. to 6 p.m.
• Tuesday, November 12 from 9 a.m. to 12 p.m.
• Thursday, November 14 from 3 p.m. to 6 p.m.
Registering families must have children 18 or under living in the household. Proof of income (examples can include access cards, unemployment records, current pay stubs, social security letter, etc.) and any form of documentation of family members in the household are required for registration.
Last year, the Thanksgiving Food Basket Program fed over 1,500 families in the community. Funding comes directly from community members and donations, and with the increase in need seen throughout the year at local food banks and pantries, UNC expects it will need to raise at least $30,000 this year to meet the growing demand at a cost of $35 per family.
United Neighborhood Centers is currently accepting both monetary and traditional Thanksgiving food donations to assist in the Thanksgiving Feed-A-Friend Food Basket Program. For more information or to make a donation please call 570-346-0759 or 570-343-8835, or go online at www.uncnepa.org/donate.