November 15, 2013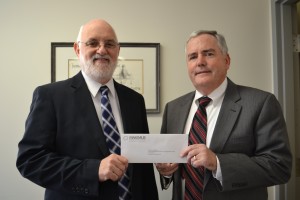 UNC was recently awarded a grant of $2,000 from the Maximus Foundation to support its teen Leaders-in-Training program.
The Maximus Foundation is the philanthropic arm of the company, providing financial assistance to many of the same disadvantaged populations and local communities Maximus serves as a global leader in health and human services. The Foundation provides grants to local community organizations with programs and projects in the areas of child and youth development, health, and community development.
Jerry Musheno (right) of the Maximus Foundation presented the check to UNC's Executive Director Michael Hanley.