December 23, 2013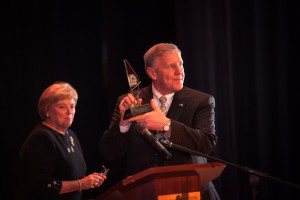 Throughout 2013, United Neighborhood Centers was excited to celebrate and honor its history as part of the agency's 90th anniversary. UNC's beginnings date back to 1923 when a small settlement house was opened in central city Scranton along with a center in the Bellevue area of Scranton. Today, UNC operates over 20 programs and has 10 locations throughout Lackawanna County.
Over the course of the past year, a number of events have been held in honor of this milestone. One of the main focuses of 2013 was to look at the intersection of poverty and poor health. On May 1, UNC collaborated with The Commonwealth Medical College to host its first special event, "Poverty & Poor Health-Changing the Equation". This was a community forum that allowed a discussion about the correlations between being poor and having poor health. Sondra Myers moderated a panel that consisted of nationally-recognized speakers Dr. Buz Cooper, Tine Hansen-Turton and Mariana Garrettson. Over 100 community members, including those from the medical arena, attended the event. A great community conversation began as a result of this event, and in 2014, UNC plans to begin a community health initiative.
UNC held a celebration on June 11 at the Scranton Cultural Center to premiere a video documentary on the agency, as well as to officially launch a capital campaign to support the Cabrini Center for the Arts. Senator Robert Casey and Austin Burke stepped up to honorary co-chair this worthy initiative. The agency worked diligently throughout the year with a Founders Committee to raise $400,000 for this project.
On September 13, in partnership with the University of Scranton and PNC Bank, UNC coordinated a poverty simulation that was host to over 75 local community leaders, students and staff. The simulation was meant for participants to experience what it is like to live a month in poverty. Each participant was given a role for the day— be that a small child with ADD, a grandmother raising her grandchildren, or a homeless, single mother. The day was split into four 15 minute sessions each meant to represent a week in time. Participants had to earn money, pay bills and take their children to school, among many other activities. After the simulation was over, Father Quinn of the University addressed the crowd and an informative and lively Q&A was held where those taking part voiced their frustrations on how hard it was to "survive". A follow-up session was held with participants in November.
Lastly, United Neighborhood Centers celebrated the conclusion of its 90th anniversary year with a dinner celebration and awards ceremony at the Scranton Cultural Center on December 5. We were honored to host past Executive Directors, including Norman Stanton and Dawn Brennan, past board members, and past employees of the agency. The night featured a keynote presentation by Susan Dreyfus, the President/CEO of the Alliance for Children and Families. Additionally, awards were presented to Senator John Blake (Visionary Leader Award), Andrew Hailstone (Jane Addams Service Award), and PNC Bank (Community Cornerstone Award).
Thank you to everyone who attended and took part in all of the events throughout 2013. Here's to another successful 90 years!
To see photos from our 90th anniversary celebration in December, please click here.