July 30, 2014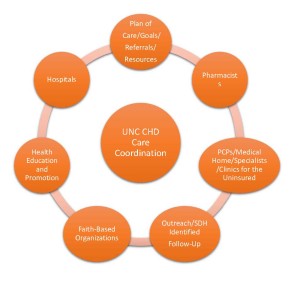 It is amazing what can be accomplished in just 90 days! UNC's Community Health department and programming is now underway. Through the collaborative efforts of many interested parties, the agency held its first Community Advisory Committee Meeting. The committee is comprised of representatives from different sectors of the county to achieve different ideas and perspectives, professional strengths and abilities, and increase community collaboration to enhance upon and guide the department's efforts. The members include:
Barbara Bossi, Geisinger
Rose Broderick, UNC Board Member
Father Mike Bryant, St. John Neumann Parish
Gary Drapeck, United Way
Ann Feeney, University of Scranton
Joseph Hollander, Scranton Primary Health Care
Andrea Mantione, Leahy Clinic
Kim Mecca, Scranton School District
Sylvia Parker, Registered Nurse (retired)
Anne Salerno, Scranton School District
Dr. Linda Thomas, The Wright Center
Brooks Turkel, Regional Hospital of Scranton
Vera Walline, Northeast Area Health Education Council
Dan West, University of Scranton
Sr. Ann Walsh, Friends of the Poor
The agency recognized the importance of the security and privacy of every person we serve and, with the cooperation of the Wright Center as our Compliancy Officer, UNC completed the Health Insurance Portability and Accountability Act (HIPAA) process and is a recognized compliant organization.
The newly formed Community Health department has been fully functioning in the community since March 2014. Prior to the beginning of programming, a Director of Community Health and a Registered Nurse were hired. Clients UNC serves face diseases such as heart disease, diabetes, high blood pressure, obesity, behavioral health and drug and alcohol issues. Over the course of the department's first 90 days, 56 clients registered with the program and were assisted with a wide variety of health needs.
Some examples include:
41% of clients were referred to a primary care physician and were assisted in obtaining an appointment
11% of clients were assisted in obtaining and/or understanding their prescription medication
52% of consumers were assisted in reducing or eliminating a barrier to access a critical health need
45% of clients were assisted with understanding health information and services
63% of clients were prompted with telephone reminders for upcoming appointments
4% of female clients were assisted with prenatal care
20% of clients received advice and information to help them quit smoking.
The clients the Community Health department have already seen are beginning to build strong, trusting relationships with the program staff and making a difference in the health and well-being of the most vulnerable of populations in Lackawanna and Luzerne Counties. One example includes a working family who were frequent visitors of the emergency room in the past. Both the father and son were diagnosed with a contagious disease but were unable to afford medication to manage their illness. A staff person of the Community Health department advocated on the family's behalf to receive an antibiotic that wound up being free of charge.
Lastly, the agency is in the process of interviewing and hiring Peer Health Educators. By October, we are optimistic that the Peer Health Educators will be out in the community assisting others with a similar chronic illness.