February 27, 2015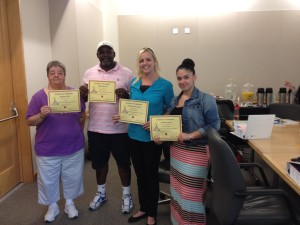 In August of 2014, United Neighborhood Centers of Northeastern Pennsylvania (UNC) and The Commonwealth Medical College (TCMC) were awarded one of only three grants selected nationwide from the American Psychiatric Foundation through their "Helping Hands" program. The grant allowed a team of six second-year medical students to work with Meredith McCracken, the Director of UNC's Community Health department, and TCMC professor Dr. Jennifer Joyce to support the mental health needs of Lackawanna County's homeless population.
One of the student organizers, Oakland Walters, said, "Our project was designed to improve UNC's ability to support homeless clients with mental health needs, as well as to increase homeless persons' access to mental health care."
The student team, consisting of TCMC medical students Allison Hyatt, Michelle Mitchell, Isabel Ramirez, Alex Slaby, Joseph Stricker, and Oakland Walters, interviewed the homeless population at local shelters and referred participants who may have moderate to severe mental disorders to UNC for coordination of care.
In total, the team conducted 85 screenings, finding 64% of participants met criteria indicating a need for referral for mental health treatment. UNC's Community Health staff followed these participants and assisted with scheduling and transportation for mental health care appointments at Scranton Counseling Center. The students are currently conducting follow up with the homeless clients who were referred for mental health to follow up on their experiences and evaluate any continuing needs.
The program has made a positive impact on many of the clients who have received counseling since first being interviewed by the medical students. Sean Hester was down on his luck and happened to be at the Community Intervention Center to apply for Medicaid when the TCMC students and UNC were there to assess the homeless for this program. Through the process of participating in the mental health screening and following through with his appointments, he went from homelessness to having a small place to reside in just a few short months and is working towards finding a more permanent home. Hester said, "I wasn't looking for help, but UNC and TCMC were there looking to help others. My life has grown in a positive direction since the first day I met them and I credit them with helping me get where I am today."
After follow up is finished the project will be presented in poster format at TCMC's 6th Annual Spring Research Symposium, which is open to the public and will be held on Thursday, May 7, 2015, 4:00-6:00pm. TCMC students will also present the project at the annual American Psychiatric Association's Institute on Psychiatric Services (IPS) Conference in October 2015 in New York City.