April 17, 2015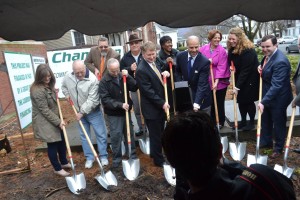 United Neighborhood Centers hosted a groundbreaking ceremony at 311 Luzerne Avenue in West Pittston on April 10 as we celebrated the official start of construction on our newest housing development- the Old School on Luzerne. The agency will substantially rehabilitate the old West Pittston High School into 22 apartments for seniors.
An exciting aspect of this development are the intensive supportive services that will be offered to the residents of this property. UNC will provide services to residents in conjunction with The Wright Center that will include case management, preventive health, direct medical assistance (24/7), nutrition and referral to specialists.
Those who spoke at the ceremony included Joseph Meade, PA DCED; Jim Rose, West Pittston Borough President; Kevin Rogers, President, UNCDC; Representative Aaron Kaufer, and Sherry Heidelmark, PHFA.
Construction is being completed by Champion Builders of Kingston and is expected to be complete in late 2015.