May 4, 2015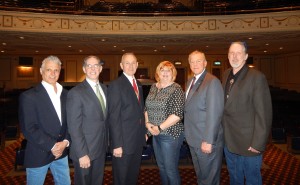 United Neighborhood Centers of Northeastern Pennsylvania will host "Seniors Got Talent" show on Thursday, May 21, 2015 at 6PM at the Theater at Lackawanna College. Amateur older adult acts (age 55+)- ranging from musicians, singers, dancers, comedians and more will compete against each other. John Cosgrove will emcee the event. Guest judges will determine the winners of the event including State Senator John Blake, Representative Sid Michaels Kavulich, and Deborah Dunleavy Dunn. Additionally, Father Jim Paisley and The Fab Three will perform at the event while votes are being tabulated.
The event is open to the public. Admission is $15/person prior to the event ($10 for senior citizens) and $20 at the door. Tickets can be purchased at uncnepa.org/events or by calling 570-346-0759. All proceeds benefit UNC's older adult programs which include four senior centers across the County- West Side, South Side, Carbondale and Mid Valley. For more information, please contact Laurie at 570-961-1592 ext. 102.
Pictured are (l-r) Jack Bordo, The Fab Three; John Cosgrove, Representative Kavulich, Laurie Fleming, UNC; Senator Blake, and Jim Collins, Lackawanna College.