March 8, 2016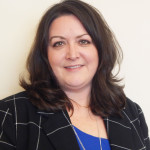 Lisa Durkin, chief operating officer at United Neighborhood Centers of Northeastern Pennsylvania (UNC) in Scranton recently completed the "Achieving Excellence" Program, an Executive Education Program conducted in collaboration with Harvard University's Kennedy School of Government and Neighborworks America.
The prestigious program is targeted to senior leaders in organizations working to benefit their communities and takes place over an 18-month period. Participants focus on achieving measurable success to address a major challenge facing their organization and community. Several formal sessions take place at Harvard University, and students also take part in executive coaching and intensive peer learning.
"I'm honored to have had the opportunity to participate in this special program," said Ms. Durkin. "I'm looking forward to applying what I learned to benefit the individuals served by UNC."
Ms. Durkin resides in Carbondale and has served on the staff of UNC for 18 years. In her job capacity, she directly oversees and supervises all programs and services, assesses community needs, and develops new programs. Ms. Durkin chairs the Housing Coalition of Lackawanna County, co-chairs the Center for Family Engagement, and serves as a member of Women in Philanthropy, the Domestic Violence Coalition, and the PROSPER Team.