March 16, 2016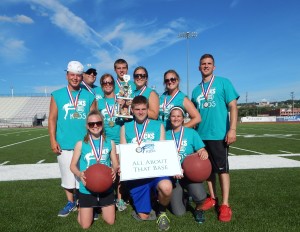 UNC will host the second annual Kicks for Kids kickball tournament on Saturday, June 4 at 10 a.m. at Scranton High School's Valor Field at Veterans Memorial Stadium. The tournament, which is open to teams of all ages, raises funds for the agency's Project Hope Summer Camp, which for more than 45 years has provided local children from low-income families the opportunity to have a traditional camp experience at Camp St. Andrew in Tunkhannock.
Kicks for Kids is a chance to relive your favorite childhood game for a great cause! Teams, which must have a minimum of ten players, can register for a $200 donation, which includes custom team shirts. Registration is open online at uncnepa.org/events and the deadline is May 20th. The winning team will go home with a special trophy, as well as bragging rights.
For more information about the event, call UNC at 570-346-0759 ext. 114.