September 28, 2016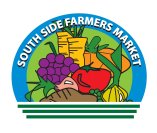 The South Side Farmers Market, which is coordinated by UNC, will move indoors for the winter season as of October 15. The indoor location will be at 509 Cedar Avenue in Scranton, less than a block away from the Market's summer outdoor site at the corner of Alder Street and Cedar Avenue.
Approximately ten vendors will continue to offer fresh meats, cheese, produce, and baked goods at the winter location and SNAP benefits will continue to be accepted. The Market hours will remain the same: Saturdays from 10 a.m. – 2 p.m.
For more information, please contact Katie Kearney at 570-346-6203.