November 3, 2016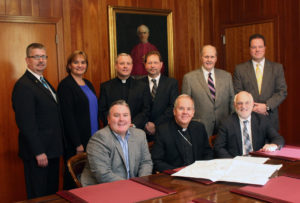 The Diocese of Scranton and UNC have finalized an agreement whereby UNC will assume ownership of the former Camp St. Andrew property.
The Diocese transferred the camp property to UNC on November 2, 2016, for a nominal sum. It includes approximately 64 acres of camp property, along with facilities and equipment. UNC will continue to operate its Project Hope day camp at the site, as well as boys and girls resident camps. The camp will also get a new name: "UNC's Camp Kelly," in honor of Monsignor Joseph P. Kelly, who played an instrumental role at the resident camp for decades and was the founder of Project Hope at UNC more than 45 years ago.
"As strong believers in the importance of quality summer programs for youth, the Board and staff of UNC are proud to be able to continue the legacy of the former Camp St. Andrew and are thankful to the Diocese of Scranton for working with us to make that possible. We look forward to honoring past traditions through the continuation of the beloved youth camps, as well as identifying ways to expand usage of the property through other programs that benefit our community," said Michael Hanley, chief executive officer, UNC.
In the Fall of 2015, after careful assessment of all aspects of the Camp, the Diocese announced the cessation of operations at Camp St. Andrew. At that time, Bishop Joseph C. Bambera had directed Diocesan staff to explore options that would include potential benefits for youth and young adults. The Diocese then leased the camp property to UNC during the 2016 summer camping season. UNC operated Project Hope, as well as a girls resident camp and girls and boys basketball camps there in July. During this time, the Diocese and UNC remained in discussion about a potential permanent transfer of the camp facilities.
Bishop Bambera noted that Bishop William J. Hafey established the camp in 1940 with the intention of offering recreational opportunities and experiences to foster the growth of young people.
"This transfer of ownership honors that legacy and fulfills our goal of ensuring the property will continue to be used for the benefit of young people in our area," said Bishop Bambera. "We are grateful that the leadership, staff and volunteers of United Neighborhood Centers will carry forth this mission now and into the future."
In the coming months, more information about camp registration and a capital campaign to conduct restoration projects at the site will be posted on UNC's website: www.uncnepa.org.