January 4, 2017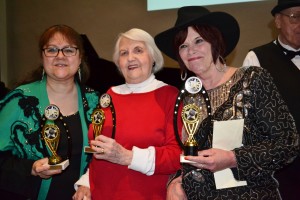 UNC will host the fifth annual Seniors Got Talent on Sunday, April 2 at 2:00 p.m. at the Theatre at North in Scranton. The special event, which has grown to include an audience of nearly 300, raises funds for the agency's four active older adult community centers in Lackawanna County.
Currently, registration is open for individuals over the age of 55 who would like to audition for the show. Acts of all types, including singing, dancing, dramatic reading, and comedy are welcome to try out, and can be up to four minutes long. To register, fill out this Talent Application. Forms must be returned to UNC's Oppenheim Center for the Arts by February 8th. There is a registration fee of $10 for acts of up to three people and $20 for acts of four or more. Those who register will be invited to audition on February 16th at the Oppenheim Center for the Arts in Scranton.
During the show, a panel of celebrity guest judges, including Nick Toma from Eyewitness News WBRE/WYOU, will score the acts and award cash prizes of $500, $300, and $200. Evie Rafalko McNulty will emcee the event and Tony Nicosia is the director.
Special thanks to the event sponsors: Eyewitness News WBRE/WYOU, Lamar Advertising, Grimm Construction, Highmark Blue Cross Blue Shield, Entercom, PDQ Print, Lackawanna County, and PNC Bank.