January 30, 2017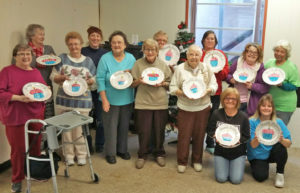 United Neighborhood Centers of Northeastern Pennsylvania's (UNC) Carbondale Active Older Adult Community Center is now offering several exciting new activities that are open to the community.
Annette Seber is leading a free monthly art class. Each session will feature a new project, such as canvas painting, painted mugs, and birthday plates (shown above). The next class will take place on Thursday, February 23rd from 9:30 – 11:30 a.m.
On Tuesdays, there is a chair dance exercise class at 10:00 a.m., as well as free assistance with rent rebates and other tax-related applications from 9:00 – 11:00 a.m. Bus trips to Mohegan Sun Casino will also begin in March.
For more information, a full calendar of events and menu, or to register for any of these programs, call the Carbondale Active Older Adult Community Center at 570-282-6167
Pictured above during a recent art class kneeling (left to right) are: Debbie Kurilla and Yvette Ceccoli. Standing (left to right) are: Catherine Nagle, Clara Montone, Jeanne Andrews, Susan Magee, Joan Emmett, Joann Mattise, Mary Ann Venosh, Carolyn Kuntzman, Patte Hugaboom, Diane Descoteaux, and Annette Seber.