March 13, 2017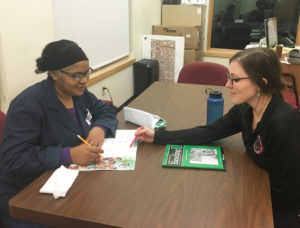 UNC's SCOLA (Scranton Council on Literacy Advance) Learning Center recently received a grant of about $2,000 in new materials from the ProLiteracy National Book Fund.
The new English as a Second Language (ESL) education materials will replace out-of-date editions previously used by the agency. SCOLA offers free ESL and citizenship education, as well as other services to help recent immigrants contribute to the community, at its facility in Scranton. For more information about SCOLA, call 570-346-6203.
Pictured are ESL student Ana Leida Romero (left) and Tierny Ulmer (right), tutor.