March 30, 2017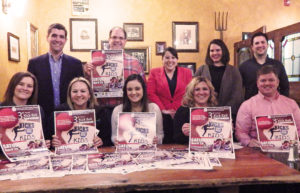 United Neighborhood Centers of Northeastern Pennsylvania (UNC) will host the third annual Kicks for Kids kickball tournament on Saturday, April 29 at 9:30 a.m. at Scranton High School's Valor Field at Veterans Memorial Stadium. The tournament, which is open to teams of all ages, raises funds for the agency's Project Hope Summer Camp, which provides local children from low-income families the opportunity to have a magical camp experience at UNC's Camp Kelly.
Teams, which must have a minimum of nine players, can register for a $200 donation. Registration is open online at uncnepa.org/events and the deadline is April 10th. For more information about the event, call UNC at 570-346-0759.
Pictured are members of the committee at a recent planning meeting. In the first row from left to right are: Kellen Kraky, Carrie Krott, Sarah Lucas, Sara Lochner, and Jack Dean. In the second row from left to right are: Jude McDonough, Ben Lochner, Lacey Woodrow, Chelsea Rixner, and Rob Noone.