April 4, 2017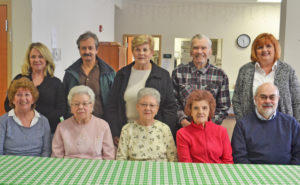 Members of UNC's Mid Valley Active Older Adult Community Center recently elected their new Council. The group was chosen by the Center's general membership and is tasked with supporting the programs provided at the Center, as well as assessing and meeting the needs of its members. The Mid Valley Active Older Adult Community Center offers recreational, health, and educational programming to active adults and is open Monday – Friday from 8:30 a.m. – 1:30 p.m. For more information about the Center, contact Jodi Catania at 570-489-4415.
Seated (left to right) are: Marty Lupini, co-treasurer; Helen Orvec, co-treasurer; Alice Radzikowski, vice president; Mary Benovitch, president, and Robert Gelik, secretary.
Standing (left to right) are council members: Jodi Catania, center manager; Sy Sebastianelli, council member; Karen Sparks, council member; George Mishko, council member, and Laurie Fleming, UNC's director of active older adult programs.