April 4, 2017
UNC re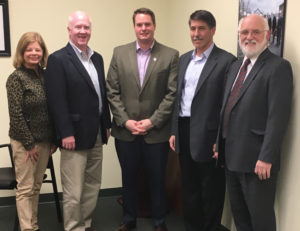 recently announced two new members of the agency's Board of Directors, as well as a new slate of Board Officers.
New members of the Board are Justin MacGregor, Human Resources Director, Lackawanna County, and Peter Rosecrans, General Manager, Lockheed Martin. The newly elected officers are: Thaddeus Kenny, President; Rose Broderick, First Vice President; Ida Castro, Second Vice President; Gail Waters, Secretary; Debra Trickel, Assistant Secretary; and Kenneth Okrepkie, Treasurer.
Pictured at a recent meeting are (left to right): Rose Broderick, Thaddeus Kenny, Justin MacGregor, Peter Rosecrans, and Michael Hanley, Chief Executive Officer, UNC.