January 4, 2018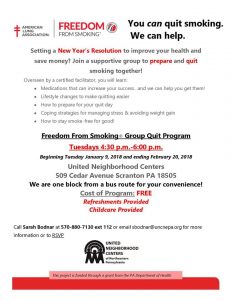 The Community Health Department (CHD) is offering two new programs in 2018: Freedom from Smoking and S.T.E.P.S.
Freedom from Smoking is a group quit program that meets weekly for six weeks. If you've been meaning to quit smoking but just haven't gotten around to it, now is your chance. It's a free program with refreshments and childcare provided. If you're interested in quitting smoking today, contact Sarah Bodnar at (570) 880-7130 x112 or sbodnar@uncnepa.org.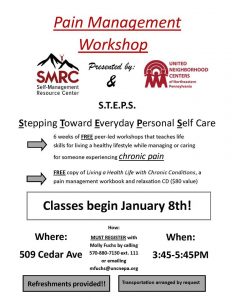 S.T.E.P.S. stands for Stepping Toward Everyday Personal Self Care. S.T.E.P.S. is a six week program consisting of peer-led workshops about living a healthy lifestyle while managing or caring for someone with chronic pain. This, too, is a free program with refreshments available and transportation provided by request. If you want to live a healthier life while managing chronic pain, call Molly Fuchs today at (570) 880-7130 x113 or email mfuchs@uncnepa.org.
Make 2018 your year for self care. Sign up today!