March 14, 2018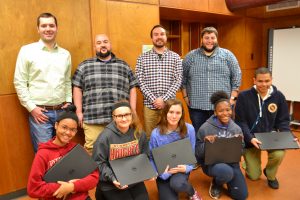 Participants in United Neighborhood Centers' (UNC) Leaders in Training program received laptops bought with funds donated by MetLife on March 1.
Employees from MetLife came to the Oppenheim Center for the Arts in Scranton to set up the machines, make sure they work, remove unnecessary software, and add programs that the students would find useful. They then showed the students a few of the laptops' features and spent some time with them answering questions.
UNC developed the Leaders in Training Program (LIT) more than 15 years ago out of a need to serve teens at-risk of destructive behaviors. The program has since been recognized by the PA Department of Public Welfare as a successful delinquency prevention course. Through a 38-week curriculum and less intensive summer program, participants learn the skills necessary to accomplish their goals and remain committed to their communities. Graduates of LIT demonstrate higher levels of self-esteem and cooperation, and 95% of participants progress to the next grade level, graduate, or move on to either secondary education or the job market. It is UNC's goal to give these students the tools, connections, and motivation to become successful, critical thinkers who are aware of their community and seek to change things for the better.
Pictured above are employees from MetLife and members of LIT. In the front row from left to right are: Jaleena Scott, Nautis Kenderdine, Keri Adolfson, Iman Jefferson, and Tyrese Rosado. In the back row are: Petar Otasevic, Joe Pace, and Dan Pentka of MetLife, as well as Nathan Masco, Leaders in Training Coordinator.