March 17, 2020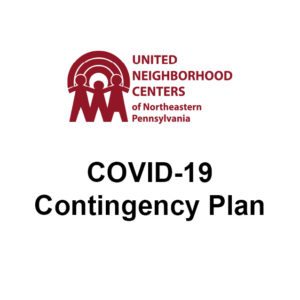 Dear Friends,
United Neighborhood Centers of Northeastern Pennsylvania (UNC) has been closely monitoring the COVID-19 pandemic in our region and in the Commonwealth. Our employees have been working with the United Way and City and County government officials to ensure programs and services will continue to provide the most basic needs during this crisis.
Following the lead of the PA Department of Health, Centers for Disease Control, as well as local health officials, we have developed a COVID-19 Contingency Plan to be effective immediately. Details include:
Child Care Centers will be temporarily closed.
Most of the agency's work will be done remotely. Only essential personnel will report to appropriate work sites.
Community Services at 410 Olive Street in Scranton will remain open during normal business hours to provide food assistance, utility emergencies, or other services to assist consumers in crisis. Case managers will conduct meetings by phone.
Older Adult Centers will provide take-home meals only. Center managers will conduct health and safety check-ins by phone to all consumers.
Youth Department staff will communicate with students through social media and electronic methods to have group discussions, lessons, and meetings.
The South Side Farmers Market will be temporarily closed. Our South Side Farmers Market Facebook page will have information coming soon about how you can order directly from the farmers during this time.
Of primary concern is the well-being and safety of our consumers, staff, volunteers, and the broader community. We are managing this ever changing emergency situation by the hour and will keep you apprised of new developments as they occur.
As always, thank you for your understanding and ongoing support of UNC.