April 28, 2020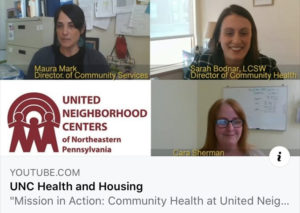 Our environment affects our ability to manage our health. Housing instability almost always correlates with poor health because it's hard to maintain a healthy lifestyle without a stable place to live. UNC offers resources such as housing counselors, budgeting classes, and financial assistance to help people secure stable housing. UNC also owns and maintains properties in Northeastern Pennsylvania which offer safe, affordable housing with the added benefit of direct access to support services through UNC.
UNC's Director of Community Health Sarah Bodnar, Director of Community Services Maura Mark, and Housing Development Coordinator Cara Sherman describe how housing figures as a social determinant of health and how UNC can assist people in obtaining stable housing in ECTV's latest episode, Mission in Action: Community Health at United Neighborhood Centers – UNC Health and Housing. The episode can be viewed at https://www.youtube.com/watch?v=Yjgd1_7t2R4.
For more information on UNC's properties, visit https://www.uncnepa.org/uncdc/. For information on budgeting classes, financial assistance, and housing counselors, call 570-343-8835.