July 6, 2020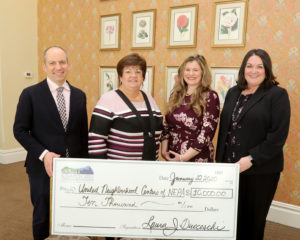 Plans to revitalize the Pine Brook section of Scranton are moving forward. Earlier this year, United Neighborhood Centers of Northeastern Pennsylvania received funding from the state, the Margaret Briggs Foundation, and the Scranton Area Community Foundation to devise an improvement plan for the area of Scranton that falls between Olive Street and New York Street, and between the Lackawanna River and North Washington Avenue.
The area is a mix of residential, industrial, and retail buildings, including longstanding landmarks like National Bakery and the up-and-coming On&On History Recycled marketplace, both on Capouse Avenue. The neighborhood already possesses a number of strengths in its diversity, walkability, and proximity to downtown as well as residents and business owners looking to brighten the area and bring in new opportunities. For instance, On&On owners Meegan Possemato and Andrew Planey have plans to renovate a vacant house across from their current business and turn it into a coffee shop with a home on the second floor.
UNC will be drawing on its experience revitalizing the Cedar Avenue area of South Scranton in its plans for Pine Brook. In South Scranton, UNC renovated a number of blighted properties into new housing and commercial space and helped form and support groups to address safety, commerce, and social and cultural events in the neighborhood.
A steering committee of local stakeholders has been formed to help shape a plan for Pine Brook. If you are a resident or business owner in the Pine Brook area of Scranton and would like to share your thoughts and get more involved with the project, please contact UNC Director of Community Revitalization Chrissy Manuel at cmanuel@uncnepa.org.
Pictured above: The Scranton Area Community Foundation presents a check to UNC for the Pine Brook revitalizaton project. From left: Martin Fotta, UNC vice president of community development; Cathy Fitzpatrick, Scranton Area Community Foundation grants and scholarship manager; Laura Ducceschi, Scranton Area Community Foundation president and CEO; and Lisa Durkin, UNC president and CEO.