February 10, 2021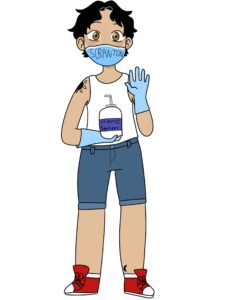 Each year for the last 16 years, Philadelphia-based REV Theatre Company has partnered with United Neighborhood Centers of Northeastern Pennsylvania's (UNC) Youth Department to present a stage production free to the public. This year, due to COVID-19, a traditional stage performance was not possible, but REV Theatre Company and UNC's youth have found a way for the show to go on!
On Friday, Feb. 19, at 7:00 pm, Lockdowns and Vaccines and Masks, Oh My! Pandemic Scranton will premiere on UNC's Youth YouTube channel – Lockdowns, Vaccines, and Masks -Oh My! – YouTube. The performance features UNC youth and several alumni in a production about the COVID-19 pandemic. In the first act, participants share their struggles and their triumphs, their frustrations and their discoveries, and their fears and hopes in their everyday lives since March 2020. In the second act, the cast performs the individual and collective COVID community experiences of Scranton citizens, including those of the mayor, a nurse, a retail worker, and more, all based on interviews with members of the public.
The cast and roles include Miranda Chemchick as Maureen Gray, executive director, NEPA Youth Shelter; Isabella DeFlice as Mayor Paige Cognetti; Connor Griggs as Jill Foley, police patrolwoman; Cameron Heffley as Cathy Warpus, social worker; Makayla Jones as Debbie Stoppard, nurse; Taryn Loney as Tim Rowland, county coroner; Enjelis Madera as Carlene Howard, senior citizen; Christian Pehanich as Malek Thomas, restaurant line cook; Kelis Perkins as Mark Brozoski, teacher; and Karla Sandoval as Wanda Wojnarowicz, retail worker. Trey Griggs and Hailee Shea are also performing in the production.
The piece was created in a five-week online process and will include a Q and A with participants after the virtual performance. Funding for the production was provided by the Overlook Estate Foundation and the United Way of Lackawanna and Wayne Counties. The show logo graphic was created by Enjelis Madera.