May 24, 2021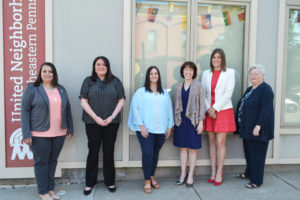 Thousands of residents in northeastern Pennsylvania are currently unemployed or under-employed and struggling to meet their basic needs. Yet local employers report open positions that they cannot fill because of a lack of qualified applicants. To bridge this gap, United Neighborhood Centers of Northeastern Pennsylvania (UNC) is partnering with Johnson College to offer the Upward Economic Mobility Program. The program provides participants with the skills and support needed to be successful in a technical education program and prepares them for in-demand careers with family-sustaining wages.
Completing the work required for a certification program can seem like an overwhelming challenge when someone struggles to care for children, find a means of transportation, or learn the English language. With support from the Harry and Jeanette Weinberg Foundation and the NEPA Health Care Foundation's Careers in Care program, UNC is working to lift these barriers by offering help with child care, food, housing, transportation, and English language classes. Free training in communication, networking, problem solving, and other skills that help individuals succeed and advance in the workplace is also available. UNC provides a needs assessment and career coaching to help participants identify a career path that is right for them and create a plan to help them achieve their goals.
Students are then enrolled in one of Johnson College's essential careers certification programs to train for in-demand occupations. These include:
Certified Nursing Assistants
Medical Assistants
Basic Maintenance Technicians
Machinists
Welders
Plumbers
Forklift Operators
Wages for these careers often range from $30,000 to $40,000. The demand for these positions regionally is already high and is expected to grow in the coming years as the older generation retires from the workplace.
Many of the Upward Economic Mobility Program participants come from UNC's housing and adult education programs, including many English language learners whose bilingual skills can be a real asset to employers. The program is open to the public, and interested individuals are encouraged to learn more. For more information, please call UNC's Community Education Department at (570) 346-6203.
Pictured above from left: Jessica Wallo, vice president of programs and services, UNC; Lisa Durkin, president and CEO, UNC; Terilynn Brechtel, director of community education, UNC; Katie Leonard, Ed.D., president and CEO, Johnson College; Kellyn Williams, Ph.D., chief academic officer, Johnson College; Karen Baker, senior director of college advancement, Johnson College.