July 8, 2021
Preview Day Set for Thursday, July 22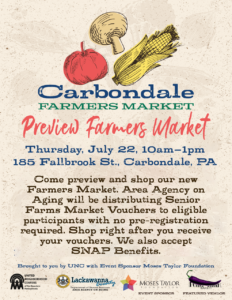 UNC is bringing a new market for fresh produce and local foods to Carbondale! With a grant from the Moses Taylor Foundation, UNC is opening a Farmers Market at its Fallbrook housing community at 185 Fallbrook Street in Carbondale. The year-round market will be open on Thursdays starting in September.
"Our goal is to make fresh, local food as accessible and affordable in Carbondale as it is at our South Side Farmers Market in Scranton," says UNC Director of Community Revitalization Chrissy Manuel.
Since 2010, UNC has run the South Side Farmers Market in Scranton, bringing fresh, locally-grown food to an area that was designated a food desert by the USDA. The market strives to make its healthy offerings available to all by accepting Supplemental Nutrition Assistance Program (SNAP) benefits and other vouchers for low-income seniors and families. The Carbondale Farmers Market plans to do the same.
Manuel says, "We've seen the benefits the South Side Farmers Market has had on the community, not only in offering local, fresh food, but also in the relationships between the farmers and customers and among community members. Customers learn about the food they eat and where it comes from while connecting with those who grow it and other members of their community."
The public is invited to a preview of the Carbondale Farmers Market on Thursday, July 22, from 10 am to 1 pm. Featured vendor Purple Pepper Farms will be on site and the Lackawanna County Area Agency on Aging will be distributing Senior Farmers Market Vouchers.
The Carbondale Farmers Market is currently accepting vendors for the market. Anyone interested can call (570) 346-6203.