July 14, 2021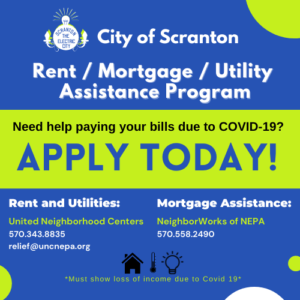 Are you or is someone you know behind on rent, utilities, or mortgage payments? Assistance continues to be available for residents of Scranton who have been affected financially by the COVID-19 pandemic. A newly revised application is now available that allows applicants to self-attest to COVID-related hardship. The new application is available by clicking HERE.
For help with rent and utilities assistance: Call UNC at (570) 343-8835, email relief@uncnepa.org, or walk-in service is available at the UNC Community Services building at 410 Olive Street, Scranton.
For mortgage assistance: Contact NeighborWorks at (570) 558-2490.
Please note, this is a COVID relief program for residents of the City of Scranton who do not reside in public housing. Residents who reside in public housing or who utilize a Section 8 Voucher should go through Lackawanna County's ERAP Program. OECD Income Guidelines apply.