* Upcoming Events *
Join us for a few upcoming holiday events in south side!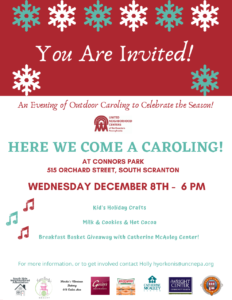 And our FINAL REGULAR MARKET DAY before the holidays!
(We will be closed on Saturday, December 25th for Christmas and
Saturday, January 1st for New Year's Day!)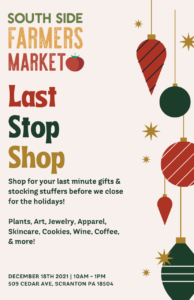 December 4th : Indoor Market Vendors
New Vendor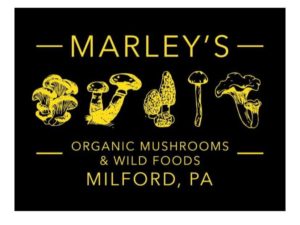 Come Saturday to see another NEW vendor to the market… Marley's Mushrooms!
Marley's Mushrooms is the Poconos Mountains' first,
USDA Certified Organic Gourmet Mushroom Farm.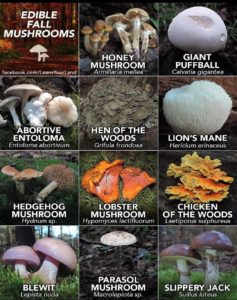 PA Department of Agriculture certified and approved
for the sale of wild mushrooms in the Commonwealth.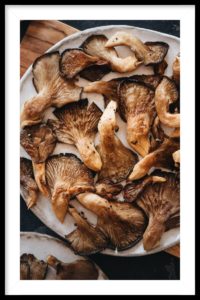 ---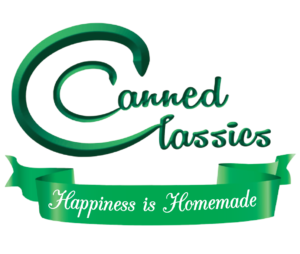 Canned Classics gourmet treats are perfect favors for weddings, showers, and parties as well as fundraisers, holiday and hostess gifts.
Not to mention adding them as a treat at your dinner table.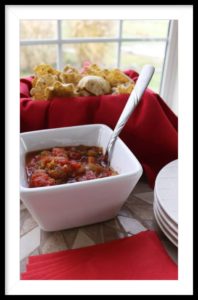 All items are prepared by hand, in small batches with the freshest ingredients.
The products offered are gluten-free and fat-free, as well as being delicious!
Try some today. We're certain you will agree.
Every recipe is unique to owner and cook Gail.
Try them all from Perfectly Picked Beets, Dill-icious Green Beans, Classic Corn Relish, Bread and Butter Zickles, Chunky Chili Sauce, Italian Giardiniera, Sizzlin Salsa,  Awesome Applesauce & the seasonal favorite Sweet and Savory Apple Chutney!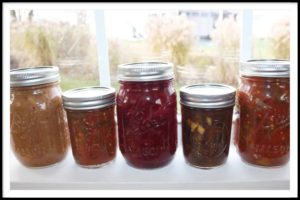 $7 each or 3/$20
Get your customer reward card when you make your purchase!
Buy 9 get the 10th FREE!
---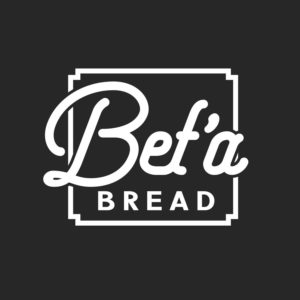 Locally made in NEPA,
Bet'a Bread specializes in making fine hearth-style breads!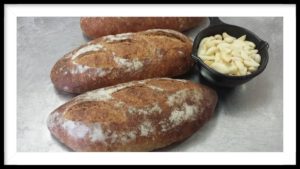 Try varieties such as Cheddar Jalapeno,
Kalamata Olive, Whole Wheat Multi-grain,
Walnut Raisin, Coco Caraway Rye and Simply Sesame!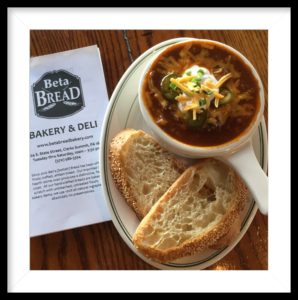 ---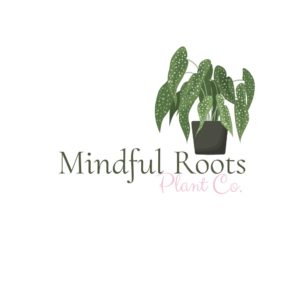 Shop at with mindful roots plant co and feel grounded all year.
Caring for plants can improve your wellness.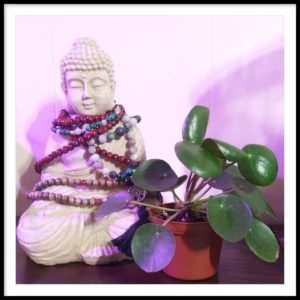 Caring for Plants and Ourselves
Stay hydrated.
Get lots of fresh air and sunlight.
Make sure you're getting the proper nutrients.
Talk nicely about, and to, yourself.
Know that it's possible to perk up after you wilt.
Give yourself the right conditions to thrive.
Tidy up your environment.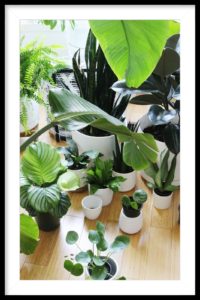 ---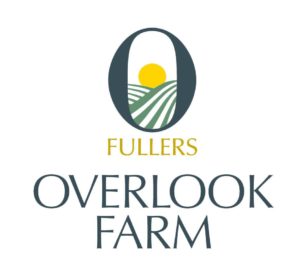 Fullers Overlook Farm is a diverse vegetable & livestock farm
committed to locally grown resilient and restorative agriculture.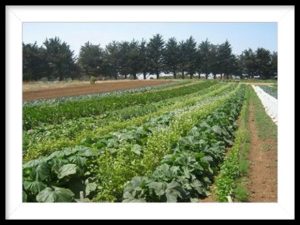 Fullers Overlook Farm is located 10 miles northwest of Scranton in beautiful Waverly, PA, overlooking the Endless Mountains. Overlook was actively farmed for 100 years from the beginning of the 20th century. It is being revitalized, rebuilding its rich agricultural history.
Overlook is a diverse vegetable and livestock farm using regenerative agricultural practices to ensure that what comes from our fields to your table is fresh and nutritious. We have 4 season vegetable production, cut flowers, herbs, pasture raised pork, chicken & eggs. It is all produced in an ecologically based system free of synthetic chemicals and fertilizers. All our animals are pasture raised, organically fed, and free of hormones and antibiotics.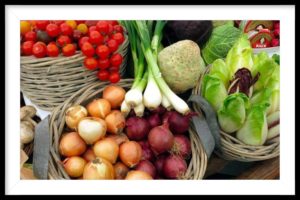 ---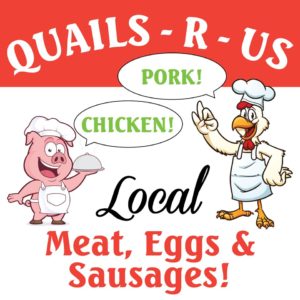 Quails-R-Us Plus! animals are raised with the utmost care for their health and well-being. Eating local allows you, the customer, to choose how you want your food to be raised.  Support your local farmer! Take a look at our products and come visit us at our next market!
(Quails is also your stop to pick up items from Twin Brook Farms & Calkins Creamery)
Products range from whole and cut chicken, pork cuts ranging from ham steaks, bacon, chops and many varieties of sausages!
Now you can order BEEF, LAMB & Goat from TWIN BROOK farm and pick up with Rick, from Quails-R-Us Plus! at the South Side Farmers Market! *Beef is pre-order only from Twin Brooks Farm and can be picked up at
Quails-R-Us booth on Saturdays 10am-1pm.
https://twinbrook.eatfromfarms.com/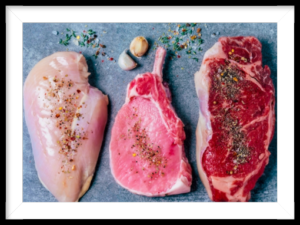 Set up an account and order before 11am Thursday 12/2  or drop site delivery.  Select your preferred location!
Pre order and pick up with Rick from Quails R Us Plus at the South Side Farmers Market!