Older Adults
COVID-19 Meal Distribution
Due to the COVID-19 pandemic, UNC is distributing meals for individuals age 60 and older who live in Lackawanna County. Each Monday, packages of take-home meals are available at UNC's four Older Adult Program locations. Packages include frozen meals, milk, fruit, snacks, notices about local services for seniors during this time, puzzles, word searches, and other brain-stimulating activities.
Advance reservations must be made by noon on Wednesday to receive meals by pickup or delivery on Monday. Meals can be picked up at the West Scranton, South Scranton, Mid Valley, or Carbondale Older Adult Program locations between the hours of 10:30 am and noon on Mondays. Please call one of the locations listed at the bottom of the page to make your reservation.
Lifelong Wellness Program
Welcome to the new UNC Lifelong Wellness Program! We are offering a variety of social, educational, and recreational sessions each week to stimulate your mind, body, and spirit.
As an added benefit of participating in UNC's Lifelong Wellness Program, you will have direct access to our in-house Health Navigator who can assist you and your family members with affordable prescriptions, access to health providers and screenings, understanding your own health, and any other support you may need to live a life of wellness and independence.
While social distancing is in place, we will be offering sessions via Zoom which you can access with your computer or by phone. To receive the link or call-in number to a session below, please call 570-346-6203 x110 or email Katie Reilly at kreilly@uncnepa.org at least 24 hours in advance of the event. New to Zoom? No problem. We can help! Call or email Katie to schedule a time for a tutorial. Full descriptions of each session are included under the calendar.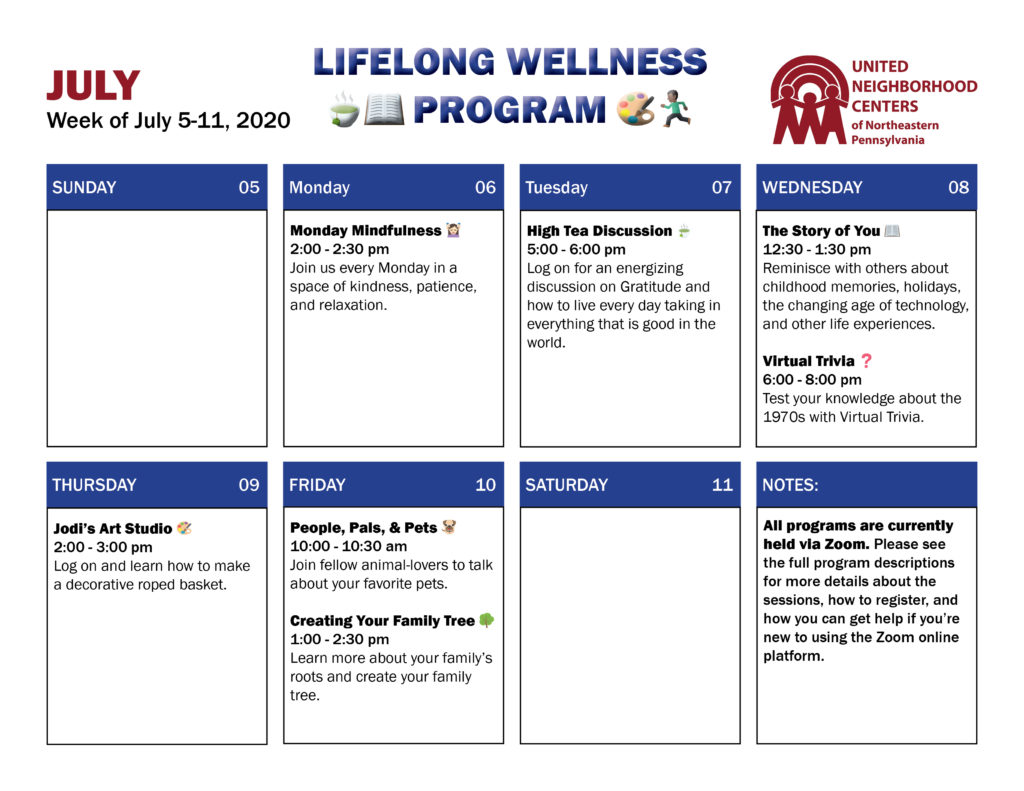 Monday Mindfulness: Monday, July 6, 2:00 – 2:30 pm; Led by Nancy Brown; Join Nancy every Monday in a space of kindness, patience, and relaxation.
High Tea Discussion: Tuesday, July 7, 5:00 – 6:00 pm; Led by Sarah Bodnar; Log on with Sarah for an energizing discussion on Gratitude and how to live every day taking in everything that is good in the world.
The Story of You: Wednesday, July 8, 12:30 – 1:30 pm; Led by Amy Kazmierski; Reminiscing involves sharing thoughts and feelings about memorable and important experiences in one's life. The ability to recall and reflect promotes self-awareness, wisdom, and a sense of meaning and understanding of one's own life. Join Amy in reminiscing about life experiences such as childhood memories, holidays and seasons to remember, the changing age of technology, and other life lessons.
Virtual Trivia: Wednesday, July 8, 6:00 – 8:00 pm; Led by Katie Reilly; Think you know things? Come test your knowledge about the 1970s with Virtual Trivia.
Jodi's Art Studio: Thursday, July 9, 2:00 – 3:00 pm; Led by Jodi Catania; Log on and learn how to make a decorative roped basket. You'll need a plastic laundry basket, 150ft of rope (thicker=better!), hot glue gun, glue sticks, and ¾ yard of fabric.
People, Pals, and Pets: Friday, July 10, 10:00 – 10:30 am; Led by Sarah Bodnar and UNC Therapy Dog Leo; We all know that people love to talk about their pets. The silly things they do, the story of how they joined the family, the tricks they perform, the foods they beg for. Join this virtual event with your loyal friend on your lap and connect with other pets and people for a fun and light social circle. Also welcome are animal lovers who don't currently own a pet!
Creating Your Family Tree: Friday July 10, 1:00 – 2:30 pm; Led by Laura Mickavicz; Interested in knowing more about where you came from and your family's roots? Let Laura guide you in this research as you grow your unique family tree and converse with others about your heritage.
Older Adult Program Locations
Carbondale Active Older Adult Community Center
66 North Church Street
Carbondale, PA
Phone: 570-282-6167
Tuesdays & Thursdays: 8:30 a.m. – 1:30 p.m.
Center Manager – Nancy Brown
Mid Valley Active Older Adult Community Center
310 Church Street
Jessup, PA
Phone: 570-489-4415
Monday-Friday: 8:30 a.m. – 1:30 p.m.
Center Manager – Jodi Catania
South Side Active Older Adult Community Center
425 Alder Street
Scranton, PA
Phone: 570-346-2487
Monday-Friday: 8:30 a.m. – 1:30 p.m.
Center Manager – Amy Kazmierski
West Side Active Older Adult Community Center
1004 Jackson Street
Scranton, PA
Phone: 570-961-1592, ext. 101
Monday – Friday: 8:00 a.m. – 2:00 p.m.
Center Manager – Nancy Brown