Older Adults
UNC offers diverse and holistic programs and services to older adults through our Community Health and Aging Department. With a focus on health and wellness, our services aim to help older adults age well and independently.
Scranton Healthy Aging Campus
UNC's Oppenheim Center for the Arts at 1004 Jackson Street in West Scranton is home to the Scranton Healthy Aging Campus, part of Lackawanna County Area Agency on Aging's network of Healthy Aging Campuses throughout Lackawanna County. The Scranton Healthy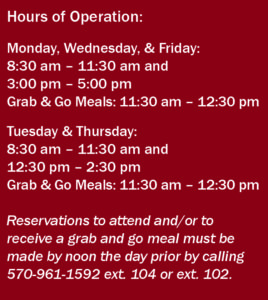 Aging Campus offers a variety of activities to promote lifelong learning and wellness as well as daily grab and go lunches Monday through Friday.
The activities on Campus are designed to enhance personal, holistic wellness. Older Adults may participate in socially distant in-person activities such as fitness classes and walking clubs, art classes, pet therapy, health presentations, and psychoeducational workshops. Many programs are also offered virtually including mindfulness, discussion groups, and smoking cessation.
While social distancing guidelines remain in place, a limited number of people are allowed in the building each day. Reservations are required to attend and to receive grab and go lunches, and must be made before 12:00 pm the day before. If transportation is needed, reservations must be made by Wednesday at 12:00 pm the week prior. Reservations can be made by calling 570-961-1592 and speaking with Amy Kazmierski at ext. 104 or Nancy Brown at ext. 102.
To attend, all participants must wear a mask, have their temperature taken before entry, answer a series of health screening questions, and follow other safety protocols as directed to ensure the safety of all.
We invite you to check out our upcoming activities and join us!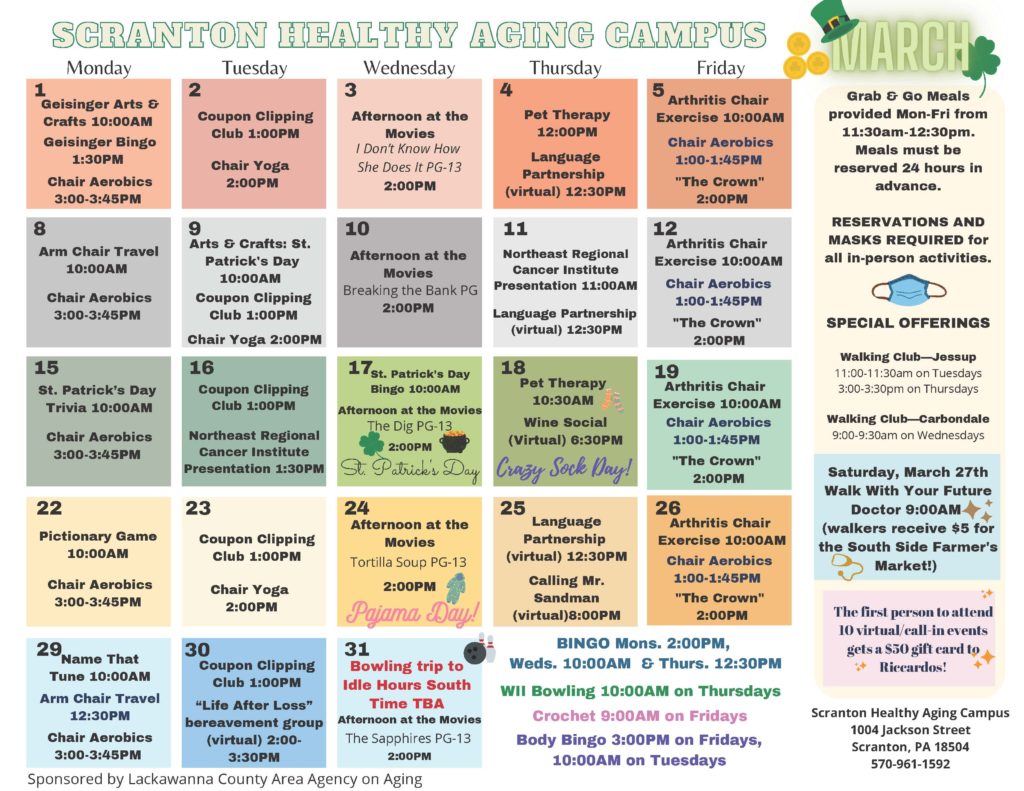 Weekly Meal Distribution
Weekly meal distributions put in place during the COVID-19 pandemic will continue at the Carbondale Community Center and the Mid Valley Community Center. Scranton weekly meal distributions have been replaced with the daily grab and go meals at the Scranton Healthy Aging Campus (see details above). To reserve meals in Mid Valley or Carbondale, please make your reservation by noon on Wednesday to receive meals on the following Monday. Meals can be picked up between 10:30 am and 12:00 pm on Mondays.
Carbondale Community Center                             Mid Valley Community Center
66 North Church Street                                             310 Church Street
Carbondale, PA                                                            Jessup, PA
570-282-6167                                                               570-489-4415
Stay tuned for more information on Older Adult programming available at our new Fallbrook location in Carbondale, opening soon!
For additional questions on services for older adults, please contact Sarah Bodnar at 570-346-6203, ext. 111.
These services are funded, in part, under a contract with the Pennsylvania Department of Aging and the Lackawanna County Board of Commissioners through the Lackawanna County Area Agency on Aging.